GENERAL ADMINISTRATION
---
Christ School in Bangalore is run by the fathers of Carmelites of Marty Immaculate through a registered body Christ Educational Society Bangalore. The CMI Congregation has its head quarters in Ernakulum Kerala. The Prior General, assisted by four his Councillors, is at the head of the administration. The Prior General's House at Chavara Hills in Kochi is the headquarters of the Congregation.
---
CURRENT ADMINISTRATION
---
Dharmaram College Bangalore, the major study house of CMI congregation, contributes secular education through various education institutions like Christ University, Christ Engineering College, Christ Residential PU College, Christ Group of Schools etc. The Rector of Dharmaram College is the Manager of all the education institutions under the Christ Educational Society, Bangalore.
---
MANAGER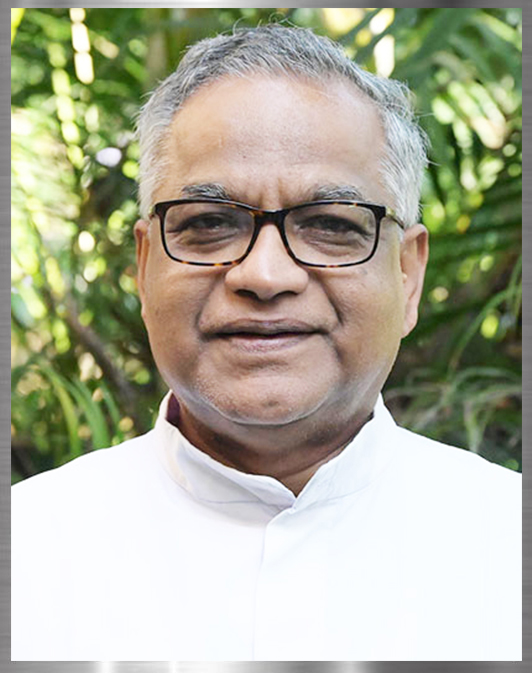 Rev. Fr. Varghese Vithayathil CMI
---
CO ORDINATOR
PRINCIPAL

VICE PRINCIPAL
& FINANCE ADMINISTRATOR

Rev. Fr. Nilson Davis CMI
Rev. Fr. Nijo Jose CMI
Rev. Fr. Reji Koodapatt CMI
---
FORMER MANAGERS
1
Rev. Fr. Justin Koyipuram CMI
1981-1984
2
Rev. Fr. Thomas Mampara CMI
1984-1990
3
Mar. Emmanuel Pothanamuzhy CMI
1990-1993
4
Rev. Fr. Thomas Kadankavil CMI
1993-1996
5
Rev. Fr. Domitian Manickathan CMI
1996-1999
6
Rev. Fr. Sebastian Poonolly CMI
1999-2002
7
Rev. Fr. James Narithookil CMI
2002-2008
8
Rev. Fr. Augustine Thottakara CMI
2008-2011
9
Rev. Fr. Thomas Aykara CMI
2011-2017
10
Rev. Dr. George Edayadiyil CMI
2017-2020
11
Rev. Dr. Paul Achandy CMI
2020-2023
LIST OF PRINCIPALS
1
Rev. Fr. John Marius Manickanamparambil CMI
1984-1996
2
Rev. Mathew BassusManjakunnel CMI
1996-1999
3
Rev. Fr. Jose Kariamadam CMI
1999-2003
4
Rev. Fr. Antony Payyappilly CMI
2003-2004
5
Rev. Fr. Joseph Rapthappilly CMI
2004-2011
6
Rev. Fr. Shaju Varghese Pellissery CMI
2011-2013
7
Rev. Fr. Augustine Paimpallil CMI
2013-2018
8
Rev. Dr. Martin Mallath CMI
2018-2020
9
Rev. Fr. Sebastian Elanjickal CMI
2020-2023
CO-ORDINATORS
---
Co-ordinators monitor and maintain the quality in teaching and good relationship with the students as the part of the quality management team to achieve good result and excellence.
---
| | | |
| --- | --- | --- |
| HIGH SCHOOL | UPPER PRIMARY | LOWER PRIMARY |
| | | |
| Ms. Christie Noel | Ms. Arunpriya Lal | Ms. Haidy A X |
---
TEACHING STAFF
---
Sl No

NAME

SUBJECT

Sl No

NAME

SUBJECT

1.
Ms. Christie Noel
Science
10.
Ms. Cini Joseph
Science
2.
Mr. Venkatesh H R
Kannada
11.
Mr. Anil P M
Social Science
3.
Mr. Murali M
Hindi
12.
Ms. Vidya Rani Sinha
Hindi
4.
Ms. Betty Biju
English
13.
Mr. Vinod Kumar V
Science
5.
Mr. Lucas
Physical Education
14.
Mr. Babu Antony Joseph
English
6.
Ms. Jancy Thomas
Mathematics
15.
Ms. Madamma V R
Kannada
7.
Ms. Rashina A T
Social Science
16.
Ms. Deepa R N
Physical Education
8.
Ms. Sreeja K
Computer Science
17.
Ms. Jeny Annie Ronney
Social Science
9.
Ms. Arunpriya Lal
Science
18.
Mr. Thomas S T
Mathematics
Sl No

NAME

SUBJECT

Sl No

NAME

SUBJECT

1.
Mr. Chikkanagaiah G
Kannada
10.
Ms. Amruthesha A
Kannada
2.
Ms. Lourd Mary
Kannada
11.
Mr. Justin Kumar
Social Science
3.
Ms. Molly Mathew
Mathematics
12.
Mr. Jose K J
Mathematics
4.
Ms. Glomy Thomas
Social Science
13.
Ms. Geetha Bai S L
Hindi
5.
Ms. Nazia Banu S
English
14.
Ms. Sheena K John
Science
6.
Ms. Smitha K L
Social Science
15.
Ms. Bincy C B
English
7.
Ms. Smitha C Simon
Computer Science
16.
Ms. Shikha Sinha
Counsellor
8.
Ms. Jayashree Raju
Kannada
17.
Ms. Vinus Alice Lakra
Hindi
9.
Mr. Sampath Kumar K
Art Education
18.
Ms. Silvi K Aby
Hindi
Sl No

NAME

SUBJECT

Sl No

NAME

SUBJECT

1.
Ms. Jessy Shibu
Mathematics
10.
Ms. Jeena
Nurse
2.
Ms. Omana Jacob
Mathematics
11.
Ms. Jerin James
EVS
3.
Ms. Vijaya Barnabas
EVS
12.
Mr. Ramesha K
Physical Education
4.
Ms. Sheeja Joseph
Mathematics
13.
Sr. Sowmya Ulahannan
English
5.
Ms. Haidy A.X
English
14.
Ms. Ritika Priya
EVS
6.
Ms. Leema Assuntha
Mathematics
15.
Ms. Aparna Thomas
Mathematics
7.
Ms. Celeenamma C M
Englsh
16.
Ms. Rekha B U
Kannada
8.
Ms. Elizabath Rani D
EVS
17.
Ms. Ezhilarassi
Computer Science
9.
Ms. Savitha Asha A
Kannada
18.
Ms. Ramya H J
Kannada
---
NON-TEACHING STAFF
---
| Sl No | NAME | SUBJECT |
| --- | --- | --- |