Admission Process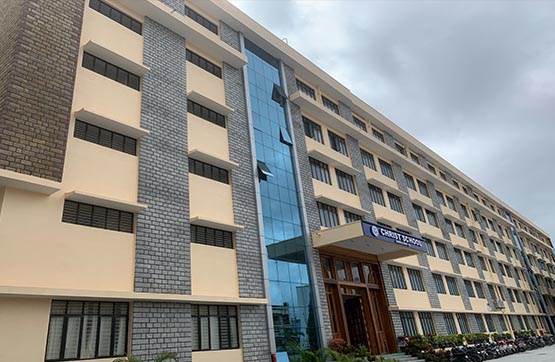 ---
AIMS AND OBJECTIVES
The school offers her students an opportunity for the advancement of an integrated personality. This school is primarily meant to provide Catholic children with sound education based on religious and moral values, but is open to all, irrespective of religion, caste or community, paying respect to their religious feelings and freedom of conscience. Sound character formation along with learning is our proclaimed aim. Spiritual, moral, social, intellectual and practical life values are stressed upon. Co-curricular activities, arts, sports, health and physical fitness and socially contributory productive work, form part of the school curriculum.
ACADEMIC YEAR
The school year is from June to April. The working hours are from 8.20 a.m. to 3.00 p.m. There will be eight periods a day each with duration of 40 minutes. Saturdays will be working days with working hours from 8.20 a.m. to 11.30 a.m. unless otherwise informed.
CURRICULUM
The school follows the curriculum and syllabi of the state board of secondary education Karnataka state. The board examination is held on completion of the course in class X. English is the first language of the school. Kannada and Hindi are the additional languages.
LIBRARY
---
A knowledgeable mind is a valuable asset to the society. The school endeavours the students to read books and the library accommodates a large numbers of students at a time. The spacious library has a diverse collection of books on a variety of subjects. We subscribe the leading newspapers in different languages, journals and magazines from around the world that keep our students abreast with national and international events.
COMPUTER LAB
Computers have become an integral part in our day today life. It is a necessity to make our students aware of all new technologies which are been upgraded according to time. We have two spacious labs with 48 work stations respectively. Students are given an opportunity to utilize the lab for presenting their ideas to help in overall development and in the technical skill under the guidance of dedicated instructors students join hands on experienced and are also encouraged to create innovative projects, preparing them for a future where technology plays a pivotal role.
SCIENCE LAB
Science Laboratory is designed to encourage and kindle scientific curiosity and creativity in the students. The lab is equipped with the most modern apparatus which provide a better opportunity to conduct experiments and enrich the scientific knowledge of students. Students from V to X standard are permitted to visit the science lab accompanying the subject teacher.
SMART CLASS
Smart Class, is an example of new way of teaching and E-learning, making education system more impact. This modern technology of e-learning is been equipped in Christ School. Teachers trained in smart board improvise the quality of teaching and technical skills. Smart board teaching introduced to cater a better and interactive learning. This facilitates optimum learning for the students through text books, black boards and the visual media.
PRAYER ROOM
The school provides a prayer room to meet the spiritual needs through prayer and reflection. Every working day before or after the class, during free periods or during intervals, students and teachers can spend few minutes in silence here. On special occasions, like Principal's Day and Teacher's day, prayer service is conducted to imbibe the spirit of the day. The Catholic students will have Holy Mass on the first Friday of the month, while other students will have prayer service.
GUIDANCE AND COUNSELING
Every individual needs assistance at some time in his /her life. Children are now a days beset with problems and it has become very difficult for them to achieve satisfactory result without guidance. With the help of qualified personnel, our school offers help to students in managing their own life activities.
The students may approach the counseling centre to avail guidance with relation to school, curriculum, courses and school life, only through the reference of the teachers / Principal.
INFIRMARY
At Christ School we cater to the needs of our students in all possible manners. The student who is unwell can access the facilities of the infirmary with the consent of concerned. The class teacher's and nursing staff's individual care is provided and the parents / guardians are informed if necessary. The medical facilitator is always on call in case of any emergency.
A special room with beds and proper first aid is provided within the school campus in order to help the ailing students. The room can be used with the permission of the class teacher, the counselor or the Principal.
TRANSPORTATION
The school has a fleet of eight buses manned by experienced drivers and conductors plying from Christ School to Various locations in the city. The smooth plying of the buses is the responsibility of the bus supervisor. The school has made provision of this facility for the students from LKG to Std. X. Buses are well equipped with a First Aid Box in case of any emergency arises. The drivers and attendants give topmost priority to the safety of the students.
INTER SCHOOL COMPETITION
At Christ School we have many co-curricular activities which help in the all round development of students. Right from June onwards students take part in different Inter School competitions like Quiz conducted by Vishveshwarya Technological Museum. Spell Bee competition, Chavara fest, DCL etc. We behave in nurturing well-rounded individuals and our participation in inter school competitions is a testament to these competitions. We encourage our students to strive for excellence, not just in the class room but also beyond, where they can challenge themselves and learn valuable life skills.
SPORTS AND GAMES
Keeping in mind that a healthy mind thrives within a healthy body, the school offers facilities for training in various disciplines such as basketball, athletics, skating, table tennis, football, gymnastics and karate. The summer camp and coaching classes are a great attraction and provide an opportunity to realize their potential. The Christ school has established its reputation in Inter school sports and games. The annual sports day organized in the school is a day of competitive excellence celebrating the spirit of sportsmanship.
NCC
The Main Aim of NCC is to develop character, commandership, discipline, leadership and to take up a career in the Armed Force. It instils the values such as discipline, sincerity, character and compassion. The school encourages students to take part in these activities for the overall development of the personality. Our unit, 2 Kar Air Squ (T) NCC is under Bengaluru 'B' Group. Various competitions are organized to develop the confidence of cadets. Every year Annual training camp is held. They are given opportunities to go to various places and learn many new things through Camps and Jamborees. Through rigorous training, students learn the importance of team work, responsibility and national pride whether participating in outdoor, adventures, community service projects or leadership development activities, our NCC cadets grow into responsible and confident individuals
CO-CURRICULAR ACTIVITIES
Our school fosters a high degree of competency in several co-curricular and extracurricular activities. The activities offered are Classical and Western Dance, Instrumental and Vocal Music, Art and Craft, Public Speaking, Leadership Camps, Roller Skating, Social Service, Yoga, Karate, Gymnastics, Abacus etc. The experts shall be available in training the students. Christ School encourages the students to take part in variety of clubs and activities. The students are expected to enjoy the school years by involving in one or more of the many clubs such as the Science club, Social Science club, Math club, Art and Literary club, Language club, Health and Wellness club, Eco club, Kannada Sangha, Social Service League etc. Clubs and activities are conducted on every Saturday. All students should be part of any one club or activity.